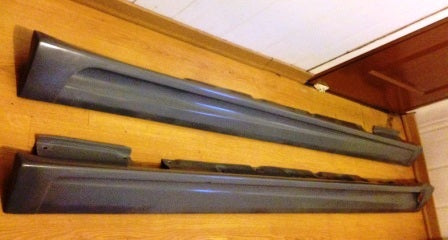 BMW E46 H-man Side Skirts
---
Shop securely through us using Stripe or PayPal. We are PSD2 compliant.
H-man Side Skirts for BMW E46, easy installation. The product is available in fiber glass, in carbon fiber with fiber glass and in full carbon fiber (2x2 weave, high gloss varnish).
Frequently Asked Questions
Frequently asked questions about our products, process and delivery.
Is it real carbon fiber or is it just water dipped

We only use original, real Carbon Fiber spiced up with a quality UV protection Varnish on top.
Since all our products are handmade and need time for manufacturing, it is really hard to keep everything in stock! When you order, we will let you know the state of your order.
How long does it take to manufacture a product?

If your product is not in stock, it takes anywhere from 2-7 days to fulfill your order. The fulfillment time depends on what you have ordered and what is the production line situation.

We will inform you with details of your products when you have placed your order
Is this product available?

Yes. All products are infinitely available. We keep the molds and can manufacture them quickly.
Do you ship internationally and how much does it cost?

Yes, we do ship worldwide.

You can calculate your order's shipping costs on the cart page. Our shipping costs are based on the weight of your order, and always include quality bubble wrapping, cardboard boxes with protection and dropping the delivery to the post office.

We have different shipping pricing for EU orders and outside of EU orders.